Environmental stewardship
About
We took up the sustainability mantle in the mid-'90s as the first company in Quebec to spearhead a project, at our Place de la Cité shopping centre in collaboration with Hydro-Québec, in which generators were used to offset power consumption peaks incurred through the utility. For more than two decades, a central platform has allowed the engineering team in charge of energy management for the portfolio to introduce and monitor best practices, especially those related to the recommissioning of existing buildings. This involves a process designed to reoptimize HVAC systems in order to enhance occupant comfort and save energy.
This environmentally responsible approach is the backbone of everything we do and all of the projects we undertake at Cominar. What can we improve to reduce our carbon footprint? How can we get everyone on board to build a cleaner, greener, more eco-minded world?

Energy Recovery System – Complexe Jules-Dallaire
Sustainable development is essential to the survival of the market economy.
Louis Schweitzer

French government official and business executive

Former Chair and CEO of Renault
The sum of our actions, day in and day out, is decisive in creating a better future for our company, our people and the communities we operate in.
27 of our properties are BOMA-certified. Complexe › Jules-Dallaire is certified under the LEED program, and certification procedures are currently underway for Tower 5 of Place Laval.

Participation in the GRAME environmental program › and the SOVERDI project to plant over 300 trees on our properties in Dorval, Lachine and Saint-Laurent.

Development of the Plug & Drive program, in partnership with the FLO network, so drivers of electric vehicles (EVs) can recharge their batteries at 18 of our shopping › centres, as well as Complexe Jules-Dallaire in Quebec City and Montreal Central Station.

Bicycle parking facilities at Alexis Nihon, complete with a Biciborne bicycle repair station for cycle commuters.

Program to collect recyclables, organic waste, power chargers, cables, computer peripheral devices, small electronics and printer cartridges.
Car-sharing service at Alexis Nihon in conjunction with Car2go.

In 2017, close to 44,900 electronic devices were recycled through the Electrobac program.

A fast-charge station, part of Hydro-Québec's Electric Circuit, at Centre commercial Rivière-du-Loup, serving EV drivers along the corridor between Montreal and Mont-Joli.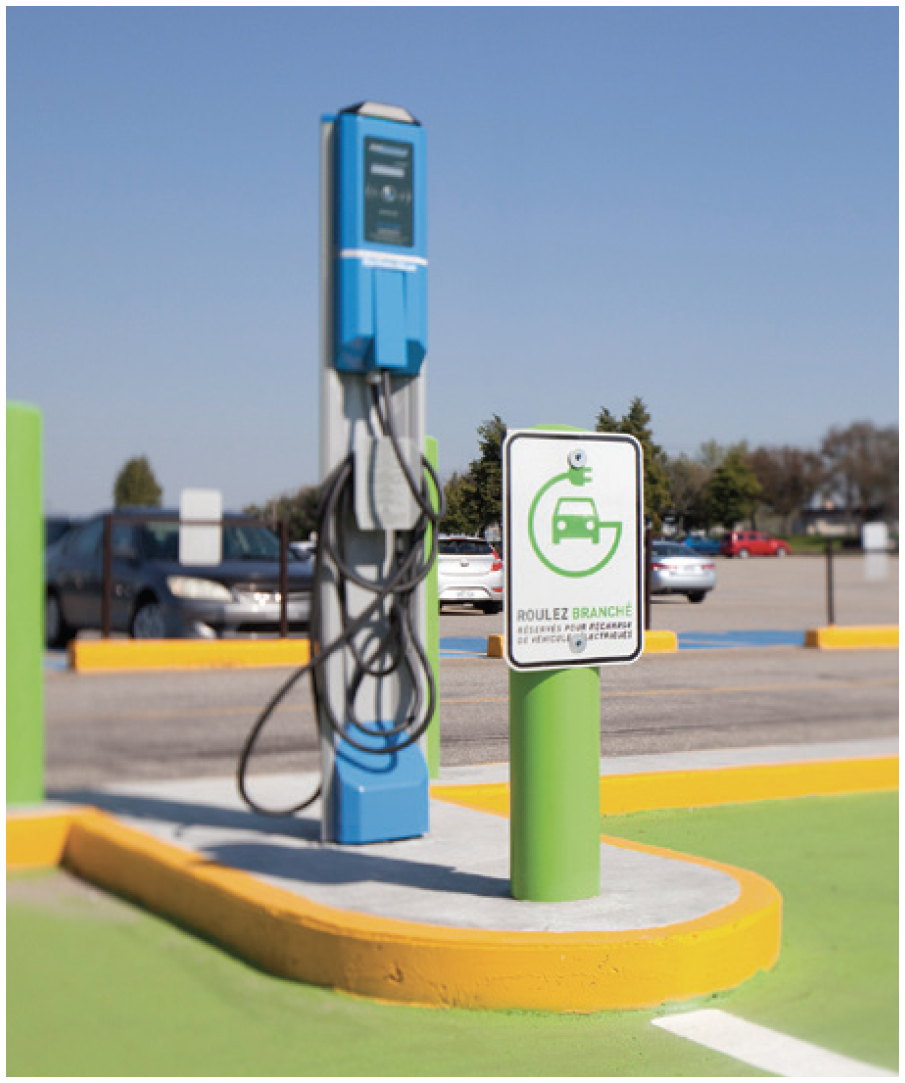 EV Charging Station – La Plaza de la Mauricie
At Cominar, sustainability isn't about looking good – it's about doing good.